USPE offers small bottle Assembly Monoblocks that fills, plugs and caps in small foot-print work cabinet. The modular component construction allows for multiple assembly use for plugs, brush insertion, capping, crimping and other fitments while bottles are confined and indexed to each operation.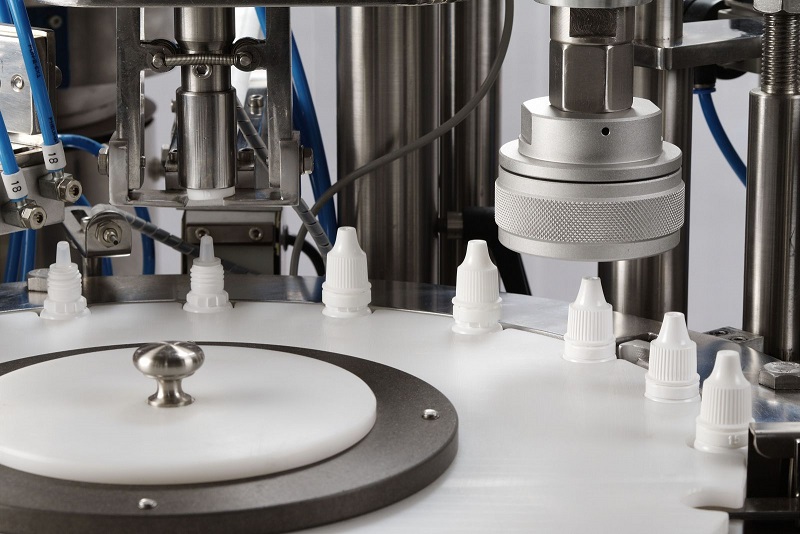 Model: MM20 Series Automatic Bottle Fill, Plug, Cap Monoblock System
304 SS and Aluminum Construction
Monoblock fill tip/plug cap machine can be either a single-indexing or dual-indexing multi-station platform that can be configured to handle several types of applications. The machine is designed to work with free-standing containers or with the use of a puck system. This multi-station Monoblock filling tip/plug placing capping machine can be equipped with a variety of filling and dosing systems (volumetric piston filling, peristaltic pump or gravity), a choice of plugging and/or capping station, torquing and/or crimping solution.
Sorting options include a centrifugal bowl or a vibratory system for tips, plugs and caps. The low-profile design is easy to clean and maintain to comply with GMP standards and regulations. Removable stainless steel doors on the front and back of the machine provides quick access to internal components and electrical controls.
The automatic single index or dual index Monoblock filling plugging capping machine can accommodate a single or dual step filling operation. The containers are first brought to the turret indexing assembly by conveyor. As the containers index around the star wheel, the liquids can be introduced via piston filler, peristaltic pump fillers or other filling techniques. Once filled, the star wheel may jog one or two more positions to the position under the plug/tip inserter, then to the chuck cap placer and tightener. Once completed the container is released onto the conveyor to exit to a separate labeling machine for labeling and collection.
Container types: glass or plastic bottles or vials
Closure types: screw caps or crimp tops
Speed range: 15-40 per minute
Cam driven fill station; option for servo driven
Filling options include piston, peristaltic, etc.
Stainless steel or ceramic wetted components
Quick removal of wetted components for clean-up / autoclaving
Stainless steel sheathed top tooling plate
Cost effective for enhanced productivity
Validation package available
Specifications
Dimensions ……… 64" x 66" x 60" sorter dependent
Optional Operator interface- color touch screen