USPE offers bottle rinse systems for various bottles and styles. Rinsing round and non-round containers including glass bottles, PET water bottles, milk and juice containers, wine bottles, cans, and jam jars. Our rinsers will remove loose particulate or dust from a bottle and in some cases provide chemical sanitation for the inside of a bottle. Two techniques available – indexing pick and flip grouped container sets for low speed applications, and the continuous motion belt inverter rinsers for higher speed production.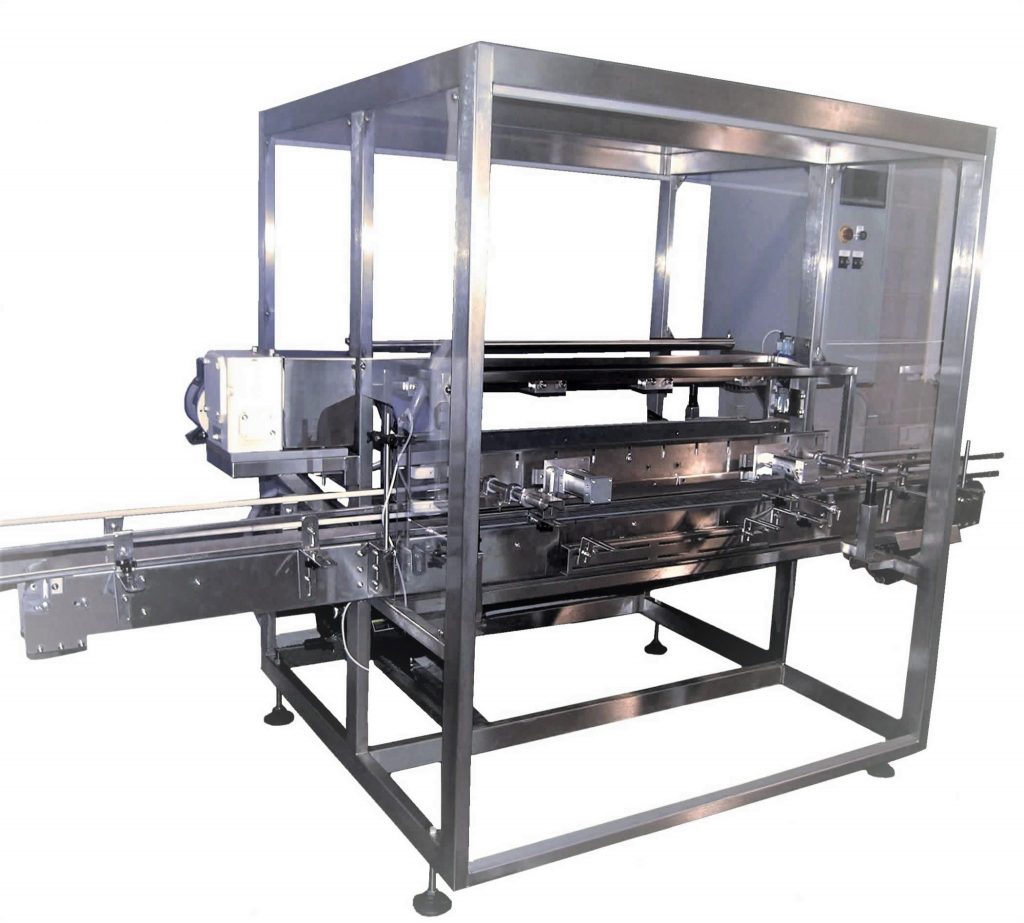 Model: R100 Series Automatic Bottle Rinser System
304 SS Construction
Automatic Linear Indexing Air/Water Rinser is used to remove dust particles and other dry contaminants from clean containers. The containers are automatically indexed into the Rinser. The grippers capture the containers and then invert them 180 degrees over the adjustable rinse nozzles High pressure jets individually rinse the containers internally with product water or customer-supplied rinse media. Once rinsed, containers are briefly drained and are reverted back onto the conveyor. The Automatic Water Rinser comes standard with PLC Controls and color touch screen HMI, pneumatic indexing gates, no bottle/no rinse and bottle backup sensors. Options are available for various conveyor lengths for even more versatility.
Supply voltage: 220 VAC
Air: 6 cfm @ 90 psi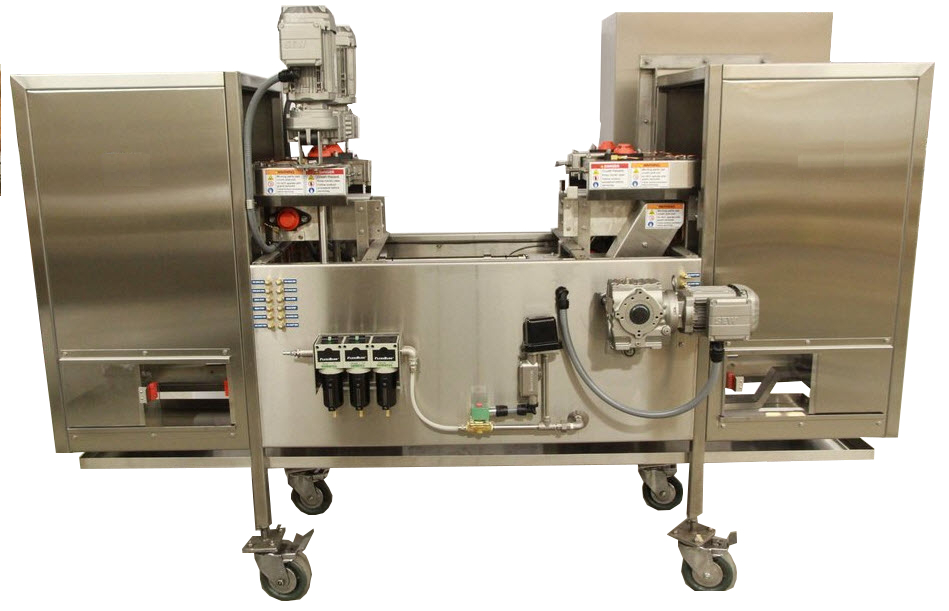 Model: R500 Series Automatic Bottle Rinser System
304 SS Food Grade Construction
Gripper Water Rinsers/ Air Rinsers models and lengths to fit all types of liquid and air rinsing applications.
No change parts required
Minimal changeover/down time.
Accommodates different sizes of containers
Grippers supply a soft, gentle grip to prevent crushing for most standard containers
PLC controls allow for easy adjustments between products
Variable frequency drive controls speed
Grease lines for bearings are run to a central header area with grease fittings labeled for easy maintenance
Quick adjustment on spray header height and nozzles can be repositioned for optimum rinsing
All stainless steel construction
SEW Eurodrives are standard
CSA Approved electrical enclosures
Handles containers from 1.5″ to 9″ wide and up to 13″ tall
Spray manifold and controls capable of handling water, air or sanitizing solution with an optional multi-zoned manifold.
Supply voltage: 220 VAC/3 ph
Air: 6 cfm @ 90 psi